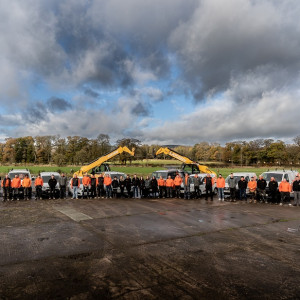 Webster Developments celebrates its tenth anniversary
With multi-million pound sales and 41 employees under its belt, construction company Webster Developments has reached ten years of business.
The Kinross-based business, started by Daniel Webster in his mother's spare bedroom when he was just nineteen, began by installing kitchens and small extensions in Perth & Kinross, before moving on to realize complete new houses for private clients.
Daniel, who trained as a carpenter, then evolved the business from a multi-trade construction company to one carrying out larger and more ambitious projects, such as converting a church, as well as construction of affordable housing under several prestigious contracts with housing associations. Webster Developments has also started delivering new homes across Scotland, from Perth & Kinross to Ayrshire and the Isle of Skye.
---
---
In 2014, Daniel took it a step further by starting his own private homebuilding division, Webster Homes. The company, using the skilled workforce of Webster Developments to create luxury country homes, has made a significant inroad into the high-end development market, with recent developments such as Gairneybank, Kinross and the development of luxury steadings, The Paddocks at Powmill, which has been fully booked off plan.
Eager to pursue other business interests as well as construction, Daniel quickly added a plethora of exciting young affiliates to his Webster banner, including self-storage company, Webster Storage, hot air balloon company, Webster Adventures, which is now Scotland's leading supplier of hot air balloon experiences and, with the goal of creating a sustainable business that reinvested all profits back into the purchase of beehives, the launch of Webster Honey in 2015.
In addition to selling its locally produced organic honey in farm shops across Scotland and online, Webster Honey has a very successful educational program with schools and nurseries. It offers bee and beehive adoption opportunities for businesses and individuals, with beehives currently hosted by several hotels and shopping centers across Scotland, all keen to play their part in saving bees.
"We are absolutely thrilled to celebrate ten years in business with the division that started it all for me, Webster Developments," said Daniel Webster.
---
---
"It has been a very busy time for us recently, working under difficult post-Brexit conditions, where we have faced shortages and delays in obtaining materials. I would like to take this opportunity to thank everyone members of my team for their hard work and continued commitment that made it possible for us to work together and overcome these challenges on a daily basis.I just couldn't have done this without all of them.
"I would also like to thank our local building dealer in Milnathort with whom we have a very good working relationship," added Daniel. "They really helped us through the pandemic by helping to place orders for equipment, it was an absolute boon for us. "
Despite the pandemic, Daniel noted that Webster Developments has always continued its apprenticeship program, with six apprentices in a number of trades. "It is so important to train young people in this industry to create the skilled workforce of the future," he said.
Webster Developments recently handed over the £ 1.3million contract to the Caledonia Housing Association, which, when awarded in 2019, was the largest contract the company has ever won.
---
---
"We were pleased to deliver six new apartments, as well as the refurbishment of an existing building to create an additional apartment, at Crieff Road, Perth," said Daniel. "We worked for Caledonia Housing Association prior to the construction of five new apartments in Wester Loan in Milnathort in 2017. We really hope to work for them, along with other leading housing associations, again in the future, as this type of contract winning work has been key to the growth and success of Webster Developments.
He went on to say that the creation of Webster Homes was a natural progression of Webster Developments: "It made sense to create our own division specializing in the high end of the market. "
"We hope to launch a new Webster Homes development in 2022. Meanwhile, we continue our pace at The Paddocks at Powmill, where seven homes – five steadings and two large detached country homes – are under construction. All include an optional paddock pitch, with the first finishes planned, "said Daniel.
"We've always liked to do something a little different in the market, taking more of a bespoke approach. Our individual properties at Gairneybank, for example, offered the flexibility of an additional games room or a separate apartment above the detached triple garage. This was very well received by our buyers looking for a 'forever home' in a well established rural area. "
Daniel explained that during his work with private clients, who often had storage needs while waiting to move, he spotted a gap in the market for a new self-storage company serving Fife, Tayside and Perthshire. Thus was born Webster Storage, which now has fifty-two units at Bridgend Industrial Estate in Kinross.
"It is still a very dynamic sector for us which has been used well during the pandemic," said Daniel. "Particularly with the prevalence of working from home, customers have had to make room for home offices, with, in some cases, multiple family members working from home. The units can be used to store furniture that is not needed at the moment, and we are also seeing companies that have developed online stores using them to store inventory.
Further progress of the new Webster Group headquarters, also in the Bridgend industrial area, is also scheduled for 2022, and manufacturing will again be carried out by Webster Developments.
The project, comprising a state-of-the-art, architecturally attractive headquarters building with a low carbon footprint and a sedum roof, is currently being delayed due to shortages of materials, almost all of the materials needed for its completion being blocked in Italy.
The complex will also house a series of small green offices for rent to small businesses, social enterprises and independent traders. These will be marketed under the new Webster Spaces commercial banner.
"The delay in getting our materials for the head office complex is very frustrating as it will be a fantastic asset when completed," said Daniel. "Innovative offices will have low rents, low running costs, a state-of-the-art interior and more supportive neighbors. We'll even make sure we have room for a few beehives scattered around the complex for local businesses to adopt if they wish.
"After reaching ten years in business, it will be great news to finally consolidate all of our business interests in one place. It will make the job more efficient for all of us. Being from Kinross, I am proud to create this state-of-the-art eco-friendly headquarters complex here in my hometown. I like having many diverse platforms to develop, it keeps me fresh and I believe that every area of ​​the Webster Group has potential, exploiting many current trends.
As for Webster Adventures, the hot air balloon company, "it started out as a fun opportunity to do something different, flying the balloon all over the world," Daniel said. "We were completely out of the sky for about fifteen months due to the pandemic before we could get clearances to resume flight, and this was an industry that completely lacked any help or funding from the government. We got back into the air over the summer which was great, with several more wedding proposals. We'll have a full season starting again in spring 2022, so watch out for our signature orange ball!