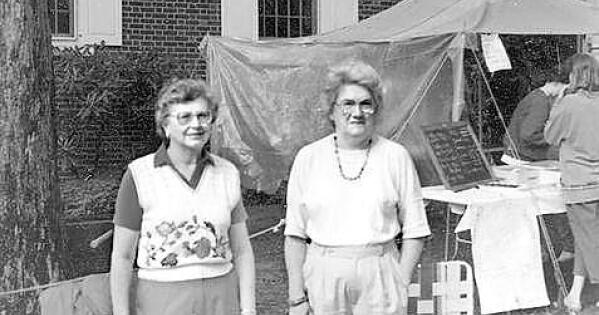 The way we were | The Newtown Bee
November 7, 1997
It's not a freeway exit, but the handful of residents who live on Old Currituck Road think their quaint little street looks like an off-ramp these days. Workers told a resident on a recent morning that they had been tasked with erecting the wooden double set rails for safety reasons. Recently, a vehicle driving down Summit Road lost control and nearly rolled over the embankment. City officials therefore concluded that a guardrail should be installed along the entire length of the 100-yard road.
* * * * *
No matter how close the Cyrenius H. Booth Library is to completion, it still seems to be only halfway there. The endless process of cutting something in half proves frustrating for city officials. The project was supposed to be finished more than five months ago, and although the contractor, Building Technologies, Inc of Prospect, is nearing completion, the work is still dragging on. This week, the city gave the man tasked with doing the job another ultimatum: Do it this week or get out.
* * * * *
A man attempted to grab a youngster in a bathroom at Newtown Middle School, Superintendent of Schools John Reed reported to the council on Wednesday, November 5. He got details: the color of his shirt, his height, his nationality. The incident happened around 9.15am on Wednesday, November 5, in the lower part of the C wing. Dr Reed said the police were investigating the matter.
* * * * *
The Legislative Council voted unanimously on Wednesday to designate Sanford Road as a scenic drive, ensuring its beauty is protected for years to come. The Scenic Byway becomes the first road in the city to be granted scenic route status under a recently created Scenic Byway Ordinance. The dirt road, which runs along the shores of Lillinonah Lake near Shepaug Dam, is now protected, by law, from major alterations.
* * * * *
There was some confusion Monday morning at Newtown Middle School after the votes were tallied to determine the winner of the 2nd Annual Carved Scarecrow Contest. It took organizers nearly 24 hours to figure out which team of monster makers was behind Scarecrow Number 29. In the end, it turned out that Scarecrow Number 29 – a scarecrow, really. – belonged to John Bunt, John Catino and Leigh Buckens. The boys had decided they wanted to do some kind of superhero, something that flew, and decided to work on a hobgoblin.
November 3, 1972
Just imagine how the driver of the car at the window of the Union Trust Company in Newtown must have felt queuing behind a horse. But that was the case on Friday afternoon as Black Coal stepped in to get 'driver' Cindy Sperling to the bank in time. Cindy traveled from her home on Edge Wood Lane, with Marianne Morhauser as her passenger. While the deposit was being made, the bank teller gave Black Coal two dog biscuits, adding that the bank refused to buy hay on such rare occasions. Perhaps Black Coal would get more attention from Union Trust if it came across horse "penny".
* * * * *
LE Pelletier of Newtown was elected president of the Connecticut Firemen's Historical Society at the society's annual meeting Oct. 27 in Branford. The society is incorporated as a non-profit educational organization to preserve the history of the Connecticut Fire Department and eventually established a fire protection museum. At present, he had a small exhibit at the Barnum Museum in Bridgeport. There are 300 members of the Society, and another Newtowner who is a member is Joseph Wupperfeld, representing Newtown Hook and Ladder Company No. 1
* * * * *
State Inspector John Grossi checked Newtown School buses Oct. 31 for bugs and goblins. The official results will be there in two weeks, but all the buses are roadworthy.
* * * * *
The Garden Club of Newtown gathered at the Spinning Wheel in Redding for their annual luncheon meeting on Tuesday October 31 and announced the recipient of the club's 1972 Civic Award. James Kearns, Custodian of the Cyrenius H. Booth Library, was singled out for the annual award and received a certificate for his pride and effort in maintaining the grounds around the library and the building itself and keeping them in a still superb condition.
* * * * *
As editor-in-chief Paul S. Smith announced, The Bee's news coverage is now under the overall responsibility of veteran John Chabot Smith, as editor-in-chief. A former Washington Post and New York Herald Tribune writer, he moved to Newtown last year from Weston, which had been his home for 20 years. The new Mr. Smith on The Bee, known to staff and friends as John, covered local news in Washington and New York, and was a Washington correspondent in Europe during World War II and a correspondent abroad in England after the war. John is a graduate of Princeton University (Phi Beta Kappa) and Cambridge University (First Class Honours). Born in England, he became an American citizen in 1943.
October 31, 1947
Those who think Halloween has always been a night of chasing mischief, preferably with the cops looking the other way indulgently, are centuries apart. This annual period of youthful sabotage began as a serious celebration, marked by many elaborate rites to ward off evil. Pretty much all that remains is the old pinewood and the broomstick, symbols of superstition. … Here in Newtown, on the night of October 31, there are parties planned, civic, private and otherwise. If the goblins don't understand you – and chances are they won't – have fun. If you can't resist the temptation to stick a pin in your doorbell, make sure it's yours.
* * * * *
Ms. Bertha J. Piper, Director of Occupational Therapy at Fairfield State Hospital, attends the annual meeting of the American Association for Occupational Therapy and the Institute for Psychosomatic Medicine in Coronado, California.
* * * * *
William Hayes of Sandy Hook left Oct. 20 to spend two weeks in Denver, Col., visiting his niece and husband, Mr. and Mrs. JB Espy.
* * * * *
Dr. JLW Jenkins and Mr. and Mrs. Albert Knapp, with Mr. and Mrs. Ralph Swift of Middlebury, left for Bear River, Nova Scotia, on Monday on a bear hunting expedition.
* * * * *
The Newtown section of the State Highway Department was assigned a new KP-11 International truck, which went into service Wednesday for the first time, with Fred Wetmore at the wheel. The truck is a big, orange-colored, efficient-looking piece of equipment, and should prove very useful in the snowstorms of the coming winter months.
* * * * *
The scout cabins are almost complete. Three years ago, a fund of $5,000 was raised to build two cabins that can be used as meeting places for Boy Scouts and Girl Scouts in Newtown. Land was purchased opposite Newtown Station and surveyed, and the Boy and Girl Scouts helped dig foundation ditches, cut brush, build a temporary road, haul bricks, drive nails and generally helped some of the fathers get the two cabins erected. The five thousand are exhausted and the two buildings are standing with the walls and roofs finished and one of the two chimneys ready for use. A meeting of the Combined Troop Committees has been called and the building committee will recommend that additional funds be raised to complete the second foyer, doors and windows and floor of the girls cabin so that the scouts can use the cabins this winter.
October 27, 1922
Another of Newtown's former residents moved on to the 'Great Beyond' with the death on Wednesday morning of Sarah Glover Nichols, widow of the late Philo Nichols, the well-known lumber merchant of her day. Mrs. Nichols was 89 years old, the daughter of the late Mr. and Mrs. Villeroy Glover. Mrs. Nichols married Mr. Nichols on February 28, 1854. They established the house in the district of Zoar. Three children have blessed their union. Mrs. Nichols was a woman of the most amiable character, gracious and charitable in her opinions of others, and kind and helpful to all who took pleasure in knowing her.
* * * * *
Mr. and Mrs. Oscar Peterson and Roy Peterson of Washington were Allison P. Smith's guests at dinner at the Parker House on Wednesday. Oscar Peterson's and Mr. Smith's birthdays fall on the same day, and once a year the gentlemen get together for dinner. This year it was Mr. Smith's turn to entertain. There's a good thing about Mr. Peterson, whom the editor has had the pleasure of knowing for 30 years. He is getting younger every day.
* * * * *
A Nugas outfit was set up in the Hawley School for lab experiments.
* * * * *
Willis F. Arndt, who witnessed the Grange explosion at the Newtown Congregational Church last Tuesday night, lost a fur robe that was used to cover his automobile engine. The car was in front of the church and if anyone had one in his car that didn't belong to him, Mr. Arndt would be happy to return it to him.
November 5, 1897
The farm, consisting of the house, barn and outbuildings, and 45 acres of land, of Mrs. Sally M. Beardsley of the Dodgingtown district, was sold on Saturday October 23 at public auction to William M. Beardsley of Bridgeport , for $425. Ms. Beardsley will likely move to Bethel and board.
* * * * *
Mr. and Mrs. Howard Peck of Berkshire and Mrs. Charles Bayette of Bridgewater traveled to Boston on the excursion last Friday to return Monday.
* * * * *
Franklin S. Hoyt, principal of New Milford Elementary School, was in town on Sunday, the guest of Mr. and Mrs. AP Smith.
* * * * *
Arthur Moore of Bridgeport died on Sunday along with his parents, Mr and Mrs AC Moore of Taunton District.
* * * * *
Here is a list of letters that remained unused at the Newtown Post Office, November 1, 1897: Wire Facktoriest, Henry Gouxs, George Van Alstyne.—[George F. Duncombe, postmaster.]
Do you have photos of people or places in the city from a bygone era? The Way We Were is the perfect landing spot for your photos to be enjoyed by Newtown Bee readers. Images can be emailed as attachments to [email protected], subject: Way We Were photo. When submitting photographs, please identify as many people as possible, the location and the approximate date. If you live locally and would like to lend one or more photos, please call us (203-426-3141) to let us know when you will be visiting..
Newtown Woman's Club members Lorraine VanderWende (left) and Betty Bussman are shown in this file photo taken Monday, September 5, 1988, Labor Day, outside the CH Booth Library. This is the day the club officially presented its pewter Christmas decoration. VanderWende designed the first ornament, which featured the rooster weather vane atop Newtown Meeting House. Thirty-five years later, the club continues to design and release a new ornament every year. This year's ornament celebrates the Mounted Guard of the Governor of the Second Company. Ornaments are $20 each and are available from The Newtown Bee office, 5 Church Hill Road; CH Booth Library, 25 Main Street; The Toy Tree, 32 Church Hill Road; and at the Town Clerk's Office, Newtown Civic Centre, 3 Primrose Street. —Bee stock photo