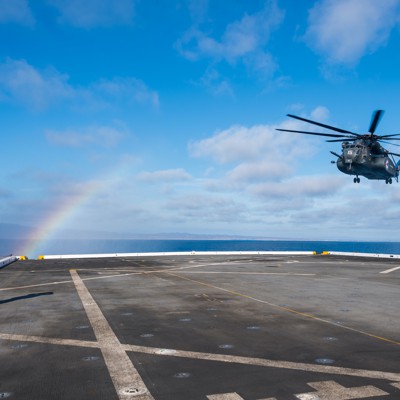 The navy should constitute a fleet for coastal campaigns
The US Marines are using this year's Rim of the Pacific exercise to practice with allies the tactics they would use to disturb Beijing's war planning, part of a long-term campaign to deter Chinese aggression. But Marine leaders are lukewarm about the value of everyday actions like those of the Marines Littoral Regiments; they or they Argue that the navy cannot afford a robust peacetime presence while building a fleet that can win a future war against China. It is a false choice based on the assumption that deterrence will fail. To prevent war with China, the Navy must challenge Beijing's bullying as it goes, rather than shove all-in on a goal line in the Taiwan Strait.
To make a campaignone of the new National Defense Strategy main areas of effort, is the daily bread of the maritime services. By creating uncertainty about the disposition and intent of U.S. forces, building interoperability with allies and partners, and challenging an adversary's hybrid (or gray area) actions, the campaign can help deter aggression. And while this may include exercises and deployments on the high seas, campaigns are primarily conducted in littorals, the area a few hundred miles from shore where ships, ground troops, aircraft and their weapons can interact. .
But the Navy is looking to downsize the fleet it has built for such operations. It's 2023 shipbuilding plan would retire a quarter of its littoral combat ships, four dock landing ships and two expeditionary support docks while ending production of amphibious transport docks (LPDs). Congress is moving to partially reject Navy retirements and could add medical and rescue ships to this year's appropriations.
There is a better way. Even without Congressional bonuses, the Navy could build a more capable littoral fleet with a modest reduction in spending on high-end warships. The rebalancing of the navy's risk profile makes sense given the size, military modernization and proximity to China. The navy could increase its spending on destroyers, aircraft carriers and submarines by 50% without significantly improving its ability to prevent an invasion of Taiwan. However, spending a fraction of that amount on littoral ships, sailors and support could allow a campaign to reduce Beijing's confidence in its plans and better prepare US naval forces for other scenarios China might present, such as a prolonged blockade or quarantine of Taiwan. .
For example, the Navy could realize a return on its more than $10 billion investment in LCS by basing most of the remaining hulls overseas, where they have proven against Beijing's gray area aggression. If the Navy is ultimately successful in retiring all but six of its Freedom-class LCS, most or all of them should be placed in Bahrain to replace the soon-to-be decommissioned minesweepers and patrol boats. Of the 12 to 18 Independence-class LCS ships likely to remain in the fleet, half are expected to be stationed in Japan and Singapore. Either way, this forward base will reduce the stress on the fragility of these ships. propulsion plants Where hulls and reduce operating costs.
Undermining Chinese leaders' confidence in their plans will force naval forces to use peacetime maneuver, reconnaissance, and counter-reconnaissance to create more wartime options for U.S. and allied commanders and reduce those for the military. Chinese army. The Marine Corps plans to conduct these operations using Reserve forces posted across the islands of the Philippines, Japan and possibly even Taiwan. Using MQ-9A Reaper drones, G/ATOR radars, naval strike missiles and short-range air defenses, the replacement forces could threaten Chinese freedom of movement across the first island chain and offer commanders a wide range of effects chains to create uncertainty. for Beijing planners.
Sustaining and maneuvering reserve forces will require ships capable of operating in the shallow littoral environment and linking Marines ashore to the fleet at sea. The proposed Light Amphibious Warfare Ship, or LAW, is intended to fulfill this role, but has been deferred in the 2023 budget and may never come.
Instead of investing a lot of money and time in LOI, the Navy and Marine Corps should use existing ships such as LCS and expeditionary rapid transit to fill that slot while focusing on their next amphibious ship, the L(X). In addition to supporting replacement forces across the first island chain, littoral ships carrying Marine missile launchers and electronic warfare the systems on their flight decks could be powerful mobile anti-ship and anti-aircraft platforms.
Congress is likely to fund an additional San Antonio-class LPD in fiscal year 2023, giving Navy and Marine Corps leaders a window to move forward on L(X). The size and draft of LPDs reduce their usefulness for maneuvering troops and weapons in littoral areas, but LCS and EPFs lack the capacity and well decks needed along coastlines without jetties or docks. The L(X) could fill this gap by combining the logistical ease of an amphibious ship with the weapons and command and control of a littoral warship.
The behaviour of Chinese maritime forces demonstrates Beijing's intent to dominate the Western Pacific and destabilize US alliances. Optimizing the US Navy to fight an invasion of Taiwan will not stand up to China's efforts today and will only make the US and its allies more vulnerable to other scenarios of Chinese aggression. Investing a fraction of the Navy's budget in a campaign-capable fleet would expand the options available to US commanders, increasing uncertainty for Chinese planners and reassuring allies and partners who now fall prey to Beijing's predators.
Bryan Clark is a Senior Fellow at the Hudson Institute.