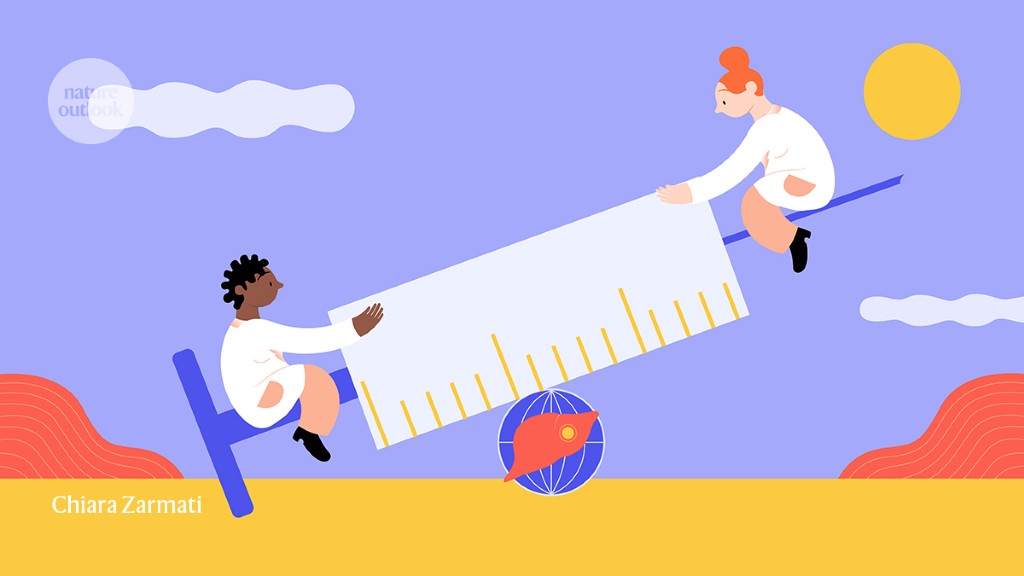 The global fight against hepatitis B benefits some parts of the world more than others
Between 2016 and 2018, researchers took blood samples from more than 6,000 people in Ndirande, a low-income neighborhood near the city of Blantyre in central Malawi. The researchers' goal was to assess the impact of a hepatitis B vaccination program 15 years after its implementation, and their analyzes brought some good news. The disease was present in less than 0.5% of children born after the vaccine became available and 97% of children had been vaccinated1.
These results echo the successes of hepatitis B vaccination elsewhere, including in China, where the proportion of newborns vaccinated at birth in many regions rose from 64% to more than 90% after the country began making vaccines free for newborns in 2002. Rate of hepatitis B virus (HBV) infection in children under 5 fell from 10% to 1%2. Other countries have made similar progress.
But there are still many countries, particularly in the Western Pacific region, Africa and Southeast Asia, where levels of HBV vaccination, testing or treatment are insufficient. In these places, the World Health Organization's (WHO) ambitious goal of reducing viral hepatitis rates by 90% – and mortality by 65% ​​- by 2030 seems a long way off, even if the medical tools needed to to fight the disease are available and affordable.
The disparities are strong (see 'Unequal distribution'). The proportion of people with hepatitis B is nearly six times higher in low-income countries than in high-income countries, according to the Polaris Observatory – an initiative of the nonprofit Center for Disease Analysis Foundation ( CDA) in Lafayette, Colorado, which aims to eliminate hepatitis B and C globally by 2030. According to Polaris, 96% of hepatitis B cases are in low- and middle-income countries, and more than 65 % are found in Africa and the Western Pacific region. Yet people living in places with the highest hepatitis B rates are the least likely to be diagnosed, preventing them from accessing effective treatment.
To achieve the WHO 2030 targets, hepatitis B needs much more attention and funding (see 'Long way to go'). The COVID-19 pandemic has slowed progress, interrupting services and making goals even harder to achieve, says Mehlika Toy, an epidemiologist and infectious disease modeling specialist at Stanford University in California who specializes in hepatitis B. "A few years ago, we still had hope," says Toy. "It will be very difficult to achieve these goals."
Partial success
The hepatitis B vaccine became available in the 1980s. Since then, vaccinations have made a major dent in the disease, says Yvan Hutin, director of the department of universal health coverage, communicable diseases, at the WHO in Cairo. The vaccine is available worldwide and most countries where the disease occurs recommend it as part of their routine infant immunization programs. In China, which started using the vaccine more than 30 years ago, rates of liver cancer and chronic liver disease have dropped dramatically3. In sub-Saharan African countries, which adopted the vaccine only 10 to 20 years ago, younger generations are beginning to show significant reductions in chronic infections.
According to data from the Polaris Observatory, which collects and analyzes, much of the world is either on track or not far behind in its efforts to reach the goal of eliminating HBV in young children, as long as they maintain their three-dose vaccination programs. global data on hepatitis B and C. But the first "at birth" vaccines, which must be given within 24 hours of delivery, are still lagging behind (see "After birth"). Although the vaccine prevents transmission from an infected mother to her baby, only 49% of babies receive the birth dose, according to the CDA. Rates are particularly low in Africa.
Closing the gap will require localized strategies, says Homie Razavi, who founded CDA. The vaccine must be kept cold, which can be difficult for transportation to homes in rural areas where women give birth with the help of a midwife only.
While public health organizations push for all newborns to receive the birth dose, Razavi says, health workers on the ground grapple with practical impossibilities. "We've been fighting about this for years and we keep going back and forth," he says. "Governments say it's not the cost: it's just not physically feasible to provide cold chains to these rural villages.
Pay attention to gaps
For people born before childhood vaccines were available, bigger hurdles remain. Because it takes decades for an HBV infection to manifest as cirrhosis or liver cancer, it is essential to screen and diagnose people during the silent period of infection, before symptoms appear. appear, explains Toy. This should be doable: the tests are simple and only cost $0.40. Treatment with tenofovir, a drug commonly used to treat HIV that can prevent liver cancer, can cost less than $3 a month, Razavi says.
Yet in low-income countries, only 7% of people living with the disease have been diagnosed, according to the CDA (see go.nature.com/37orabb). In high-income countries, 44% have been diagnosed (see 'Diagnosis disparities'). Of those diagnosed, 30% receive treatment in high-income countries, compared to 2% in low-income countries. Meeting the WHO goals in the United States, the researchers estimate, will require diagnosing 90% of chronic hepatitis B cases and treating 80%. "We really dropped the ball on the testing and treatment side," says Razavi.
Economic modeling studies suggest that achieving these goals will require billions of dollars. In an analysis4 which included 67 countries, in which 230 million people live with hepatitis B, Hutin, Toy and their colleagues estimated that testing 5.5 billion people and treating 32 million people with the virus would eliminate this public health problem and would prevent 3.4 million deaths by 2030 (see "Big investments needed"). This amount of testing and treatment would cost US$927 for every year of life saved5. "Progress is affordable, reasonable and very profitable," says Hutin.
There is also plenty of room for improvement in rich countries, including the United States. Meeting the WHO's 2030 goals in the United States would require screening 14.5 million adults to diagnose about 870,000 cases, according to an analysis by Toy and colleagues6. Taking these steps, they estimate, would reduce liver-related deaths by up to 37%. Universal adult screening in the US would save $263,000 and avert 10 deaths per 100,000 people screened, Toy and colleagues estimated in a 2021 paper.7.
Getting There
Eliminating hepatitis B will require organization, investment in infrastructure, political will and a sense of urgency that is lacking, in part because hepatitis B tends to affect people without access to resources (see "Silent disease"). "It's a sad story in the sense that everything is available," says Hutin. "What's needed is someone saying we're going to do it."
Overcoming the stigma will be key, adds Razavi. For now, many people are not getting tested because they don't want to know if they are infected. In parts of Africa, people would be kicked out of their homes for testing positive, he says. "In Asia, we hear stories of children who cannot eat at the same table as other children at school if they are positive for hepatitis B," he says. "So the patients don't want to talk about it."
There are some signs of hope. Vaccination data are encouraging, experts say. Several countries are changing guidelines to increase access to testing and treatment, Razavi says.
And projects such as the one that took place in Malawi between 2016 and 2018 illustrate how increasing efficiency and mobilizing resources can assess the needs of diverse groups in a community and potentially change the disease landscape, says hutin. "We really haven't made much progress despite something that's really easy to do and very profitable."