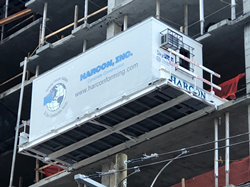 SkyPodz LLC develops a new crane-based construction office, the SkyPod
"We're taking productivity improvements to new levels," says Michael Hardin, president of SkyPodz. "It's about improving your productivity and making it soar into the sky."

BUFORD, GA. (PRWEB)
July 11, 2022
SkyPodz LLC announced the SkyPod, a new mobile office and storage structure for high-rise construction projects, increasing productivity by allowing site managers and superintendents to stay closer to their work.
High-rise construction projects in urban areas often have limited storage and office space away from active work. Temporary offices are usually rented or built on site, but are rarely on the same floor where the work takes place. A SkyPod is a lightweight temporary office structure that can be hoisted by crane and mounted to any floor during construction. Providing an enclosed office, storage, and power source for any trade, a SkyPod saves the effort and hours of employees traveling to and from the mobile office on the floor.
"We wanted to create a place where superintendents would be close to their work, a quiet place to make phone calls, use a computer, view drawings and charge power tools," says Michael "Mike" Hardin, president of SkyPodz.
Equipment includes:

Operating lamps

HVAC air conditioning

Mounted computer screens

Shelves, desk, plan/drawing lockers and tables

binder

Fridge and microwave

Circuit breakers for temporary electrical connections

Tool charging station

Optional storage space with roll-up door for large tools

Large signage area to display a company logo
Made from a lightweight 20ft aluminum. modified container, a SkyPod is mounted on a suspended steel beam assembly with stabilizer beams protruding inside the building. These spars are then temporarily fixed to the ground. Once ready, it can be detached and jumped to higher floors as construction progresses on the tower. The layout configuration can be adjusted according to needs and desires.
"We're taking productivity improvements to new levels," says Hardin. "It's about improving your productivity and making it soar into the sky."
For more information visit http://www.skypodz.com or contact Mike Hardin at [email protected]
About SkyPodz

SkyPodz LLC is a creation of Mike Hardin, Fellow of the American Society of Concrete Contractors, Past Chairman of the Board of Associated Builders and Contractors of Georgia, and President of Harcon Inc. Hardin has conducted productivity seminars at over 200 contractors, universities, lean construction organizations, and was a guest speaker on productivity and creativity. Harcon Inc. is a 33-year-old structural concrete formwork contractor specializing in commercial and industrial projects of all sizes headquartered in Buford, Ga., with offices in Nashville, New Orleans, Birmingham and Greensboro , NC For more information, visit https://www.skypodz.com/ or https://www.linkedin.com/company/skypodz/.
*Press release distributed via AC Business Media

As one of the leading business-to-business media companies in the United States, AC Business Media reaches millions of professionals each year and leads the way in delivering targeted content to key decision makers and organizations. With a portfolio of renowned brands in the heavy construction, asphalt, concrete, paving, rental, sustainability, landscaping, manufacturing, logistics and chain markets supply chain, AC Business Media delivers relevant, cutting-edge content through its industry-leading digital properties, commerce shows, videos, magazines, webinars and newsletters. It also provides advertisers with the analytics, data, and ability to reach their target audience.
Share the article on social networks or by e-mail: