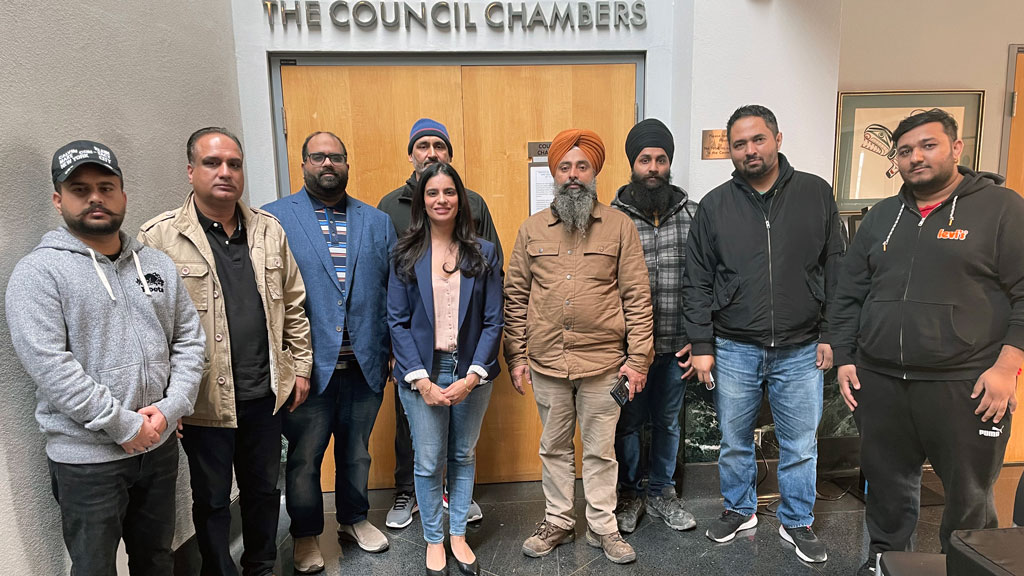 No End in Sight for GTA Dump Truck Owners Professional Action
Industrial action by members of the Ontario Dump Truck Association (ODTA) in the GTA is entering its sixth week and the repercussions are being felt on the jobsites, but no resolution appears to be in sight.
Ontario General Contractors Association (OGCA) President Giovanni Cautillo said there has been little disruption at construction sites, while Ontario Sewer and Waterman Construction Association (OSWCA) Executive Director Patrick McManus, and ODTA Special Advisor Bob Punia said the effects of labor disruptions on construction sites are significant.
"The OGCA was not directly notified of widespread site disruptions through our contractors due to the action of the dump truck operators," Cautillo said. "This is likely due to general contractors troubleshooting and creating contingency plans to deal with this issue."
Meanwhile, McManus said: 'Construction disturbance is intensifying at soil disposal sites. This is becoming a growing problem.
For his part, Punia said in a recent radio interview that work has stalled on some sites "because we are the first to enter a site. We move the hardware around to make other things happen.
The ODTA, an informal owner-operator association that contractors say lacks the legal status to sign collective agreements recognized by the Ontario Labor Relations Board, can claim two victories since that its members voted to withdraw their services as of March 21. City councils in Mississauga and Brampton have passed resolutions supporting the drivers' demands.
The Mississauga City Council's April 6 motion asked city staff to explore how to broaden the scope of its sustainable procurement policy to address labor rights and working conditions, while asking staff to review the process to ensure that contractors comply with fair labor practices.
"As municipal leaders, we must stand up for the rights of vulnerable workers who literally build our infrastructure and are essential to the construction industry, especially when taxpayers' money is at stake," said Ward 5 Councilor , Carolyn Parrish.
In addition to seeking support from the municipality, Punia has called on three major contractor associations active in the earthmoving sector to recognize a nine-page draft contract drafted by the ODTA which demands a significant increase in tariffs as well as commitments in terms of safety and working conditions.
A driver who appeared with Punia during the radio interview said that with rising fuel, labor and parts costs, owners are losing $100 every day they drive a truck.
Punia said by email that he initially directed the drivers' requests to three associations: OSWCA, Associated Earth Movers of Ontario (AEM) and Ontario Road Builders' Association (ORBA).
"To be clear, we have only had discussions with the Earth Movers association and these negotiations are not progressing/are at an impasse as they refuse to agree to recognize minimum working standards in writing," Punia said. .
AEM's David Rumble had previously said that his association was willing to address the financial concerns of dump truck owners but that AEM could not enter into a collective agreement with the ODTA due to the association's legal status. .
Rumble then said in a brief memo that the MEA had forwarded three separate legal opinions to the ODTA on the contract issue and would comment in more detail in the future.
McManus said the OSWCA had received legal advice but had "not decided how to move forward."
He explained that the Greater Toronto Sewer and Watermain Contractors Association has truck drivers covered in its collective agreement with Teamsters Local 230, so it cannot enter into a different collective agreement covering the same work.
"The ODTA needs to negotiate with the Teamsters and work on a certification certificate to cover this part of the job if they want to establish a collective agreement. Without this step, any 'collective agreement' is neither legal nor valid," McManus said.
Otherwise, McManus said, individual owner-operators could contract through their brokers with individual contractors on new deals.
Punia had previously claimed that the ODTA could negotiate agreements with associations. He did not immediately respond to another request for comment given subsequent legal opinions that have been issued.
ORBA has not yet responded to a request for comment.
Cautillo said he believes brokers who trade on behalf of dump truck owners should be regulated, with more transparency.
"OGCA is communicating directly with the industry to see if an amicable resolution can be reached and if general contractors can help with that resolution," Cautillo said.