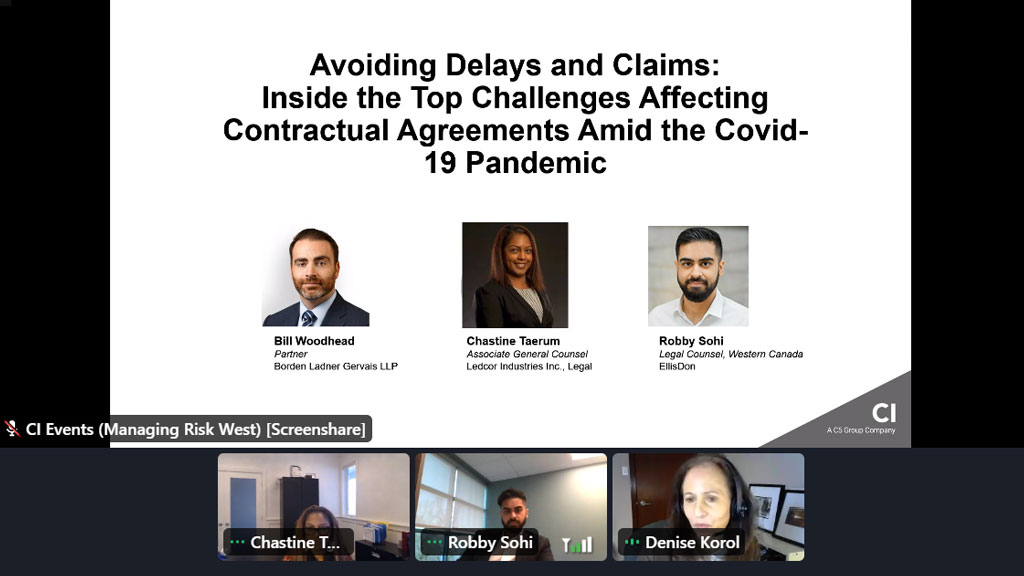 Legal panel: Construction industry tinkers with contracts to adapt to COVID
While it is clear that workers have had to make immense adjustments to respond to the COVID-19 pandemic, the inner workings of contracts and other legal issues have also faced significant challenges.
Legal experts discussed their construction experiences during the pandemic at the conference on Risk Management in Construction Contracts and Projects, hosted by C5 Group Inc. – ACI, CI and C5.
The event featured EllisDon's Western legal counsel, Robby Sohi; Chastine Taerum, General Counsel for the Ledcor Association for Infrastructure; and Bill Woodhead, partner of Borden Ladner Gervais LLP.
The trio agreed that delays, labor shortages, supply chain insolvency, security issues, legislative changes and inflation have all presented significant legal challenges for projects and contractors. contracts.
"When he first hit, obviously everyone was dealing with new rules," Sohi said. "One of the main restrictions was on the movement of people and vehicles. We have projects with cross-border movements, so it was really interesting to write letters to various border services explaining that there were essential workers for things like health care facilities.
Sohi noted that when many looked into their contracts to try to address COVID issues, they found force majeure clauses — which aim to mitigate unforeseen disasters — lacking in financial relief.
"I don't think we can rely on the force majeure clause of a contract to get relief for COVID," Sohi said, noting that some contracts don't explicitly mention pandemics or epidemics, and much of the relief they provide is time related rather than financial. "We need to look at these force majeure provisions much more carefully."
In terms of cost and contract management, Sohi said there are good owners who are reasonable and willing to work with contractors to share the risk of rapid fluctuations in materials. In some cases, contractors purchase materials six months in advance due to price volatility, and owners help pay for storage. He believes it is worth looking to the insurance industry for possible solutions.
Woodhead explained that currently many projects are facing significant price inflation as well as insolvent suppliers.
"Now the entrepreneur is faced with the question of paying for a new supplier to come and save the day," he said.
He explained that with the risks of COVID-19, extreme weather and price instability overlapping, the traditional risk allocation of a fixed price contract is being reconsidered in favor of integrated project delivery models. (IPD) or Alliance.
"I think the owners are ready to have that conversation," he said. "I think you already see BC introducing the IPD and Alliance models because the industry is struggling to get bidders on traditional projects."
He thinks the issues could even lead to COVID-specific changes to industry standard documents.
"The best options here are to work together," he said. "Owners are now having these conversations with contractors."
However, Woodhead noted that he knew contractors were losing millions and their owners were unwilling to make concessions.
"I don't know how these contractors are going to keep bidding," he said. "I think owners will start to see a significant price difference in the projects they're considering and you might see a shift in contract preference to cost-plus contracts for the next time."
Taerum said those working on big projects with long-term contracts signed before COVID are in a tough spot, but she's seen some customers willing to listen and offer solutions on moral grounds, even if it doesn't. is not required by the contract.
She also sees contractors asking for COVID-specific measures in contracts, however, public owners often have less flexibility as they have strict budgets and need to respond to the public if a project's schedule needs to be extended or its budget. must increase.
"Probably the biggest issue we see right now is stand-alone measures for material price increases for things like steel or wood where there may be a cost-sharing mechanism," she said. . "We see it more on big projects."
Taerum also sees challenges with vaccine requirements for contractors who must prove their workforce is vaccinated to access certain sites.
"There needs to be an internal process to collect this information and deal with the nuances of privacy," she said. "It's not just a matter of cost. It's a matter of time and there are administrative things that add costs to projects that didn't exist before.
The three experts agreed that going forward there could be three main areas of change. First, the industry could focus more on contract models that allocate risk differently. Second, the market may become less willing to bid without modification. And third, there could be increased insolvency and security requirements in contracts.