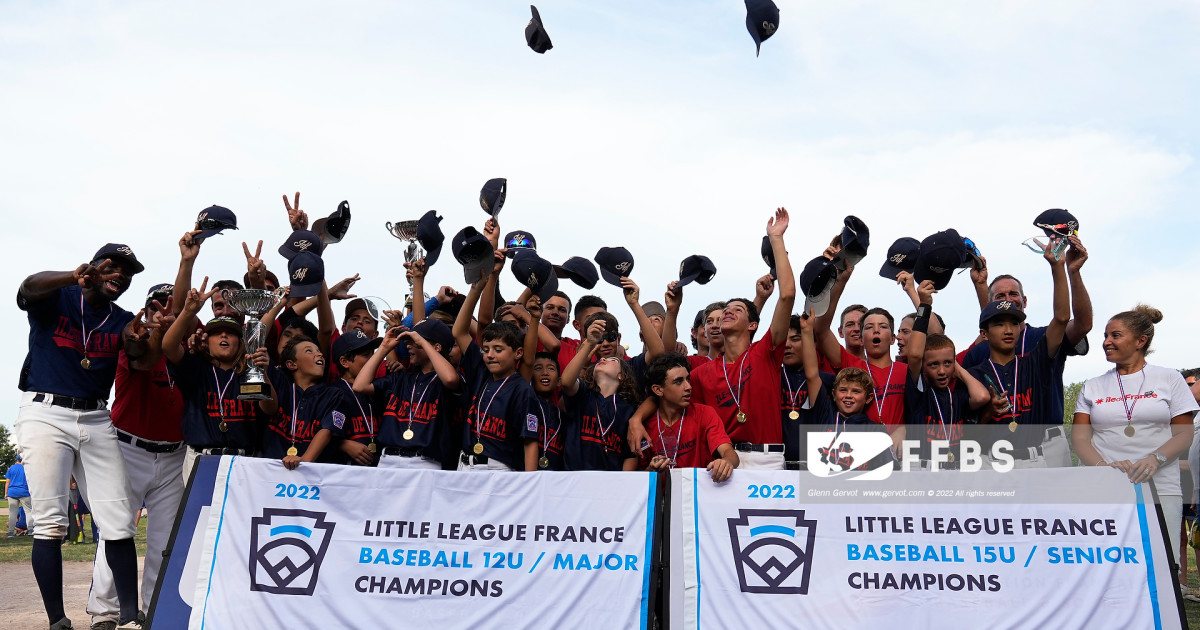 Hundreds of players and volunteers present the Little League® program at the "Interligues" event in France
La Guerche de Bretagne in western France hosted 320 players, 60 coaches and 50 officials in the Little League Interligues® Tournoi de France, organized by the French Federation of Baseball and Softball (FFBS).
From August 26-28, 2022, as Little League Baseball® The World Series celebrated the championship weekend of its 75e Anniversary, the FFBS held its biggest event yet which included a major division and senior division baseball competition.
"Our leagues have sent a combination of the best talents from their territory," said François Collet, executive director of the FFBS and administrator of district 1 of France. "Our 'Regional Leagues' have been modified following an administrative reform leading to the delimitation of our Little Leagues. A few years ago, we renamed our Interleagues to "Little League Interleagues", formalizing this event as a qualifier for the Europe and Africa region tournament.
Branding Little League France is part of the strategy to better identify and communicate about the program across the country.
"Before the restrictions imposed as a result of the coronavirus pandemic, the FFBS also provided equipment to local leagues," Mr. Collet said. "The federation continues to communicate about Little League and to retain children by offering them goodies such as Little League France pins."
The 2021 tournament featured 20 teams and this year a total of 22 teams took to the field, highlighted by 12 senior division baseball teams representing all metropolitan leagues in France. The major division tournament was contested between 10 teams.
"It's two competitions in one event," said Mr. Collet. "Leagues send a combination of the best talent from their territory to this event which has been around for over 20 years (but was not held every year)."
A few years ago the league boundaries were redrawn which created the 12 leagues now operating in mainland France, and with the rebranding the chartered leagues are now recognized as Interligues Little League.
To improve attendance, the French Baseball and Softball Federation is now also offering funding for leagues to participate in this national event, as well as travel to tournaments in the Europe and Africa region.
"The cost of operating these tournaments, the number of matches available and the placement of match officials are issues that we are determined to overcome," Mr. Collet said. "We are also banking on the international opportunities that Little League provides, especially for our referees. We hope these events will motivate existing game officials and attract new ones. We strive to ensure that one day one of our referees will become the first to compete in a World Series.
Interest from communities, volunteers and player families will continue to impact the growth and expansion of Little League in France and across Europe. The unique experiences these events provide create increased visibility for the Little League program.
"We would also like to launch a softball event based on this approach next year because softball attendance is low and we currently don't offer a lot of playing time opportunities," Collet said. "In this regard, we believe the Little League program is the ideal solution to encourage participation and provide life experiences that will benefit everyone and help us grow the sport."
In recent years, France has not fielded a team for the Little League Baseball Europe and Africa tournament, played in Kutno, Poland, as the leagues struggle to raise enough funds to participate in the tournament. 'event. In 2022, however, France participated in the Intermediate (50/70) and Senior League Baseball Region Europe and Africa tournaments. France's little league expects to field more teams in other baseball and softball divisions in the coming seasons.
"We are grateful to Little League for providing lifelong opportunities for children, parents, coaches and officials," said Collet. "We hope the success and visibility of these events will help keep everyone involved, while promoting the sport and attracting new players."