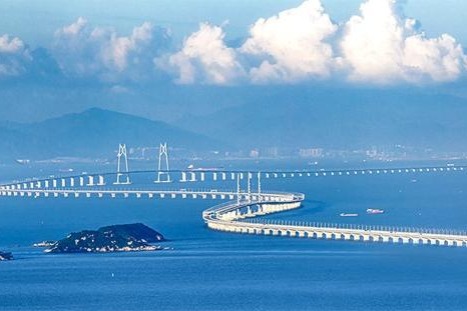 HK's engineering expertise is key to industry development, GBA
CEO of Large Construction Company Applauds Construction Standards and SAR Solutions
A seasoned medical facility construction expert believes Hong Kong's experience in engineering management will help the country's architectural engineering industry to further modernize and globalize.
Zhang Yi, CEO of China State Construction International Medical Industry Development Co Ltd, said his company is actively applying these experiences to projects in the Guangdong-Hong Kong-Macao Greater Bay Area.
At a series of events in Hong Kong showcasing the country's architectural engineering prowess, Zhang said on Friday that Hong Kong has an advanced system for planning, designing and constructing medical projects and that its hospital operating system was also leading internationally.
Aspiring to seek further development, Zhang came to Hong Kong in 2004 and began to engage in the Hong Kong construction industry. Since then he has been involved in various public works, especially medical facility projects, such as Hong Kong Children's Hospital and Princess Margaret Hospital.
He recalled that he was very impressed with the advanced design and management of infectious disease control at Princess Margaret Hospital when he participated in a project at the facility several years ago. In 2019, he also hired Lily Chiu, the hospital's former CEO, to take on the role of COO of his current company.
Princess Margaret Hospital is the only hospital in Hong Kong to treat SARS patients in 2003. It also established the city's first infectious disease medical center.
Zhang said the construction industry in China has experienced rapid development, with many advanced technologies and large engineering projects. Yet in terms of engineering management standards and mechanisms, there is still room for improvement.
For higher quality industry development and closer collaboration with international partners, it is necessary to study the experience of managing international projects in Hong Kong and other developed economies, he said. he declares.
Zhang hopes to promote Hong Kong's advanced engineering management system as much as possible in mainland GBA cities projects to help construction works in the region innovate and modernize.
Currently, his company is involved in various work in progress in the GBA, such as the New Macao Hospital in the Island District, the Internal Medicine Complex of the Shekou People's Hospital in Shenzhen, and another anti- pandemic in Shenzhen in case mass quarantines are needed. Zhang said the projects will also learn from Hong Kong's engineering management models.
Established in Hong Kong in 2019, Zhang's company aims to achieve high-end medical, healthcare and rehabilitation projects. The company is a subsidiary of China State Construction Engineering Corp, one of the world's largest construction groups.
So far, he has helped build 20 hospital projects in Hong Kong and Macau, as well as four quarantine centers and a community treatment center, for a total contract value of around $ 50 billion. HK dollars (41.2 billion yuan).
Last year, the company also participated in two Hong Kong medical facility projects built as part of the country's drive to fight the COVID-19 pandemic: the North Hospital Infection Control Center Hong Kong's Lantau and processing facilities at AsiaWorld-Expo.
China Daily reporter Zhang Yi contributed to this story.