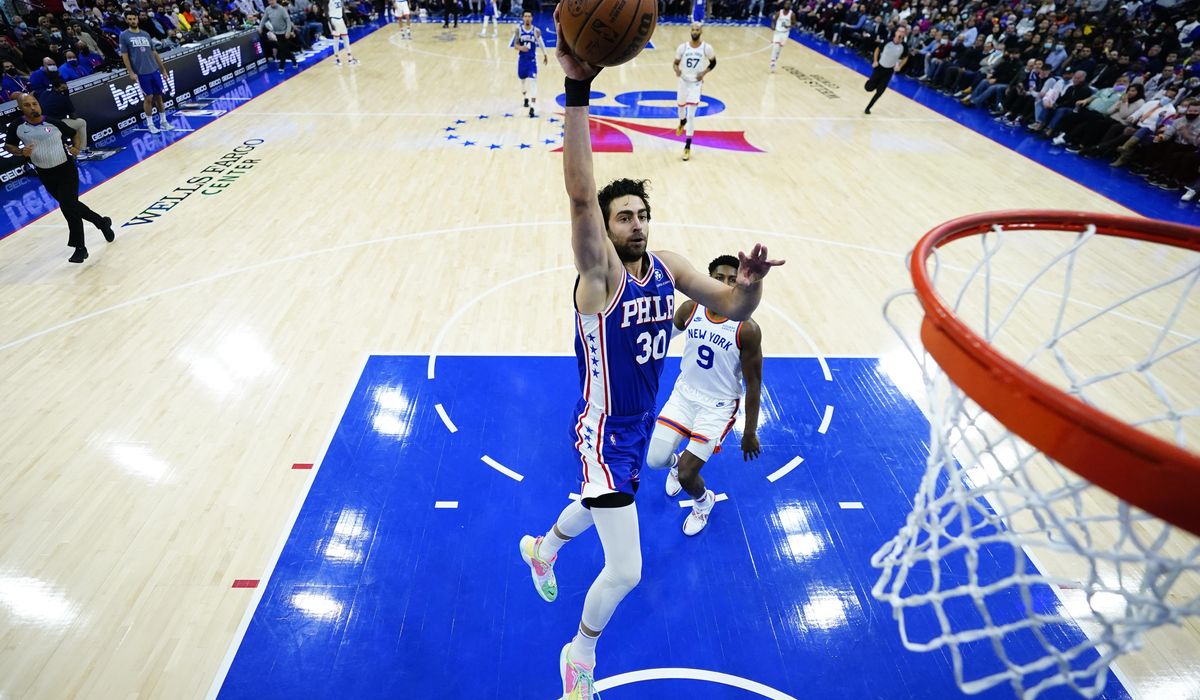 Furkan Korkmaz's ejection from 76ers in international tournament leads to fight outside locker room
Philadelphia 76ers shooter and small forward Furkan Korkmaz and Indiana Pacers center Goga Bitadze got into an altercation outside a locker room during the EuroBasket tournament on Sunday.
The match, held in Tbilisi, the capital of Georgia, was part of the preliminary group A of the tournament.
Korkmaz, a Turkish national, suffered two technical fouls and was sent off after an on-field confrontation with Georgian Duda Sanadze.
What happened next is now the subject of debate between Turks and Georgians.
"As soon as we came out of the tunnel and tried to reach the locker room, I saw three Georgian players alongside two security guards running towards us. We started punching each other. …C "It was like a street fight. There was no talk or conversation," Korkmaz told BasketNews.
BeIN Sports Turkey journalist İsmail Şenol said on Twitter that the three Georgian players involved were Sanadze, Bitadze and Tornike Shengelia.
About the incident in the tunnel, Sanadze told BasketNews that "there were a few words from him and from us. Then we met, but security was trying to come between us. Even if we tried to fight, we couldn't [have done] because there were people between us. It was kind of a fight. I don't think anyone punched or slapped themselves. There were swings, but I don't think anyone was hurt.
Both Korkmaz and Sanadze have made statements to the International Basketball Association or FIBA.
The Georgian National Basketball Federation has placed much of the blame for the conduct on the court on Turkish head coach Ergin Ataman, who was also sent off.
"The National Basketball Federation of Georgia expresses its outrage at the provocative actions taken by the head coach of the Turkish national basketball team," the Georgian federation wrote in a statement quoted by BasketNews.
Turkish officials hit back with their own written and verbal outrage.
Former NBA player and President of the Turkish Basketball Federation, Hedo Turkoglu, told Eurohoops that "one has to wonder if an institution like FIBA ​​gives the organization of EuroBasket to countries third world like Georgia… If they think it's a provocation, why don't they show the cameras to the public?"
In an attempt to calm the waters, neither Ataman, Korkmaz nor Sanadze will be suspended in light of their ejections from Sunday's game.