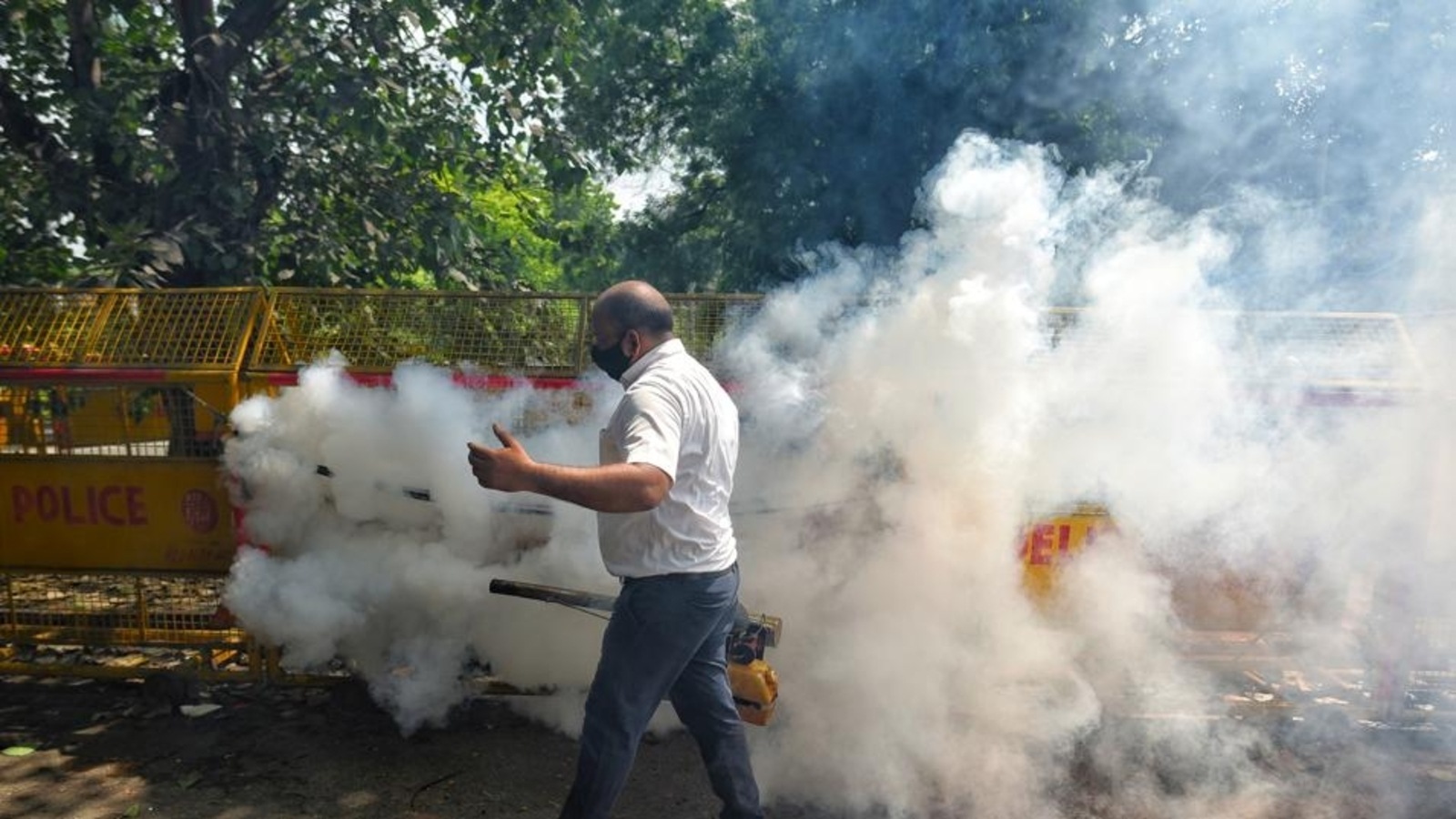 Delhi: MCD imposes fines for mosquito breeding on construction sites | Latest Delhi News
A fine of ₹1 lakh was imposed on construction company PNSC, which is carrying out work at a site near IIT Delhi, with officials saying a large number of mosquitoes were breeding there.
The Municipal Corporation of Delhi (MCD) announced on Sunday that it had imposed fines ranging from ₹5,000 up to ₹1 lakh on construction sites in Delhi as part of its ongoing anti-larval campaign after sites were found to be taking insufficient measures to control mosquito breeding, city officials said on Sunday.
A fine of ₹1 lakh was imposed on construction company PNSC, which is carrying out work at a site near IIT Delhi, with officials saying a large number of mosquitoes were breeding there. "A team of officials from the MCD's public health department have undertaken anti-larval measures and destroyed all mosquito breeding sites," an MCD official said.
Other locations where violations have been detected include two construction sites in Karkardooma, one in Khichdipur and one site in Dwarka.
"One company, SAM Buildwell, has been fined ₹50,000 in Karkardooma; ₹10,000 was slapped on Abhilasha Enterprises for construction at LBS Hospital in Khichdipur, ₹10,000 on the NCC for another construction in Karkardooma and a fine of ₹5,000 were levied for mosquito breeding at Venkateshwar Hospital construction site in Dwarka Sector 18A," the MCD said on Sunday.
The MCD said that to curb the spread of vector-borne diseases, people should take preventive measures, especially during the monsoon, by regularly checking probable places in their homes or localities where mosquito breeding risks are high. .
Close story
Delhi: From Breadbasket to Creative Commercial Street

For the uninitiated, Dhan Mill Compound has transformed from a former granary and cluster of warehouses into the city's trendy food, fashion, design and lifestyle destination. Its streets are lined with art cafes, home decor stores, workshops, art galleries, pottery studios, dance halls and high-end boutiques, whose facades and interiors are as interesting and experimental as the wares they sell. the establishments are housed in repurposed warehouse buildings, which still have metal roofs.

More than a million people have found jobs at Rozgar Bazaar: Delhi government

A Delhi government official said a breakdown of the total number of jobs, including the list of employers and the number of people they have hired, will be shared "within days". Notably, the government portal was launched by Chief Minister Arvind Kejriwal on July 27, 2020, to help entry-level and blue-collar job seekers connect with employers at a time when the Covid-19 induced lockdown has left many unemployed people.

Government urges Center to reduce fees for SUP options: Delhi minister

"Manufacturers and start-ups working on alternatives to single-use plastic must pay more GST for raw materials. Therefore, the Delhi government will write to the Center and request a reduction in the GST rates," Delhi's Environment Minister Gopal Rai said.

Weather in Delhi: yellow alert issued until Tuesday

Safdarjung, Delhi's weather base station, recorded 0.1mm of rainfall between 8:30 a.m. and 5:30 p.m. on Sunday. The capital recorded 1.9mm of rainfall on Saturday and 117.2mm on Friday, bringing the monthly total to 119.2mm so far. The normal monthly average for July is 210.6mm, weather experts said.

Delhiwale: Six Shades of Monsoon

The monsoon elevates Adam Khan's tomb into an emergency sanctuary for passers-by (and dogs) speared by sudden downpours. Perched atop a Mehrauli hill, the monument overlooks the Qutub Minar, which appears utterly bechara and helpless in the pouring rain.