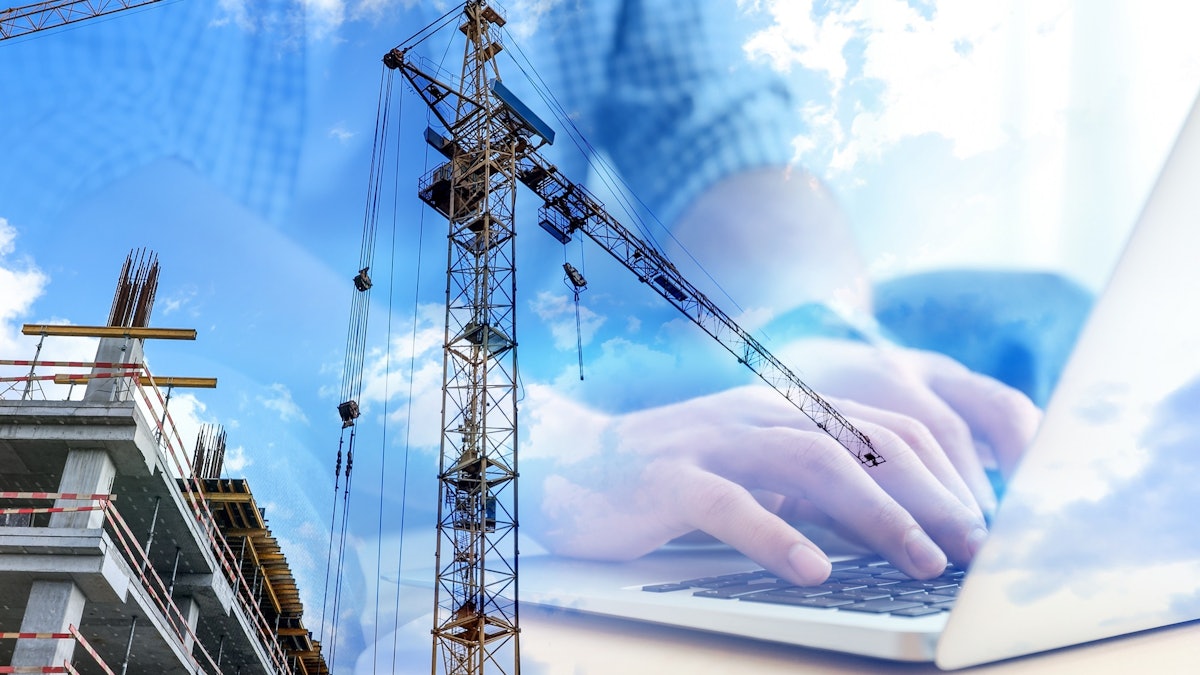 Connected technology: the key to unlocking a more climate-friendly construction industry
While the construction industry is responsible for incredible feats of engineering and building the places where we live, work, learn, play – and the infrastructure that powers and brings these places to life – its impact on the environment is undeniable.
©New Africa – stock.adobe.com
When I was in eighth grade, I started working in a cabinet shop, sparking an interest in building that would change the course of my life. The idea of ​​building something from nothing, of creating a sustainable and meaningful project, fascinated and inspired me. To this day, I'm still passionate about learning how things are built.
After several decades in the construction industry, and having raised a family and had a son, I have come to understand that what makes working in this industry so impactful is not just what we build, but also what we leave behind. I developed a growing appreciation not just for building things, but for building better. Those of us who work in construction leave behind a legacy that will outlive us all. I want to leave a legacy that I can be proud of and that prepares my son and his future children for a healthy future.
The footprint of construction on the world
While the construction industry is responsible for incredible feats of engineering and building the places where we live, work, learn, play – and the infrastructure that powers and brings these places to life – its impact on the environment is undeniable. The construction industry is one of the largest in the world, with buildings representing almost 40% annual global carbon emissions. According to According to the World Green Building Council, building materials specifically account for around 11% of global carbon emissions. And according to a report by Market research on transparency, the volume of solid construction waste generated worldwide each year amounts to approximately 1.3 billion tonnes. This number is expected to nearly double to 2.2 billion tonnes by 2025.
One of the causes of this waste is people working with outdated information, showing up at the wrong job site at the wrong time, with the wrong materials and equipment. Often there is a culprit at the heart of these inefficiencies: outdated communication channels like fax, phone, and paper. These lead to miscommunication, which can lead to costly rework and a huge waste of time and materials. In other words, this waste is avoidable.
Over the past few years, the industry – and landlords in particular – have turned their attention to solving this growing challenge. This in turn has put pressure on general contractors to deliver more sustainable projects and track their ESG metrics. In a recent In the McKinsey study, where 100 senior construction executives were asked what trends they expected to accelerate due to the COVID-19 crisis, 53% cited sustainability.
But this shift towards sustainable construction began long before the pandemic. Companies are increasingly looking for ways to better track and report on their environmental, social and governance (ESG) efforts, initially focusing on the impact of climate change, such as carbon, waste and energy consumption. 'energy. Energy use involves both operational carbon and embodied carbon. Operational carbon comes from the use phase of a structure. Embodied carbon, on the other hand, includes carbon from manufacturing, transporting and assembling the materials used to produce a structure (generally considered as all greenhouse gas emissions before the doors of a building open).
Notably, companies are using digital tools to track and report on their ESG efforts. While technology offers a wide range of solutions, connected technology– which connects people, systems and data in one place – will be a real game-changer when it comes to reducing the impact of construction on the environment. Unlike point solutions, connected technology reduces miscommunications and errors that lead to rework, resulting in a significant amount of construction waste. Connected technology also gives teams a more holistic picture of their data, enabling them to make better decisions in order to build more sustainable and resilient buildings, emit less carbon and reduce their overall environmental impact.
Although there is growing recognition that companies need to track and reduce their carbon footprint, new environmental legislation may move faster than many companies have prepared for and force companies into a space where they are not maybe not equipped. The truth is that the process of measuring and tracking your environmental impact can be complex and difficult.
Ways to improve the durability of construction
There are two key elements to improving one's ESG efforts. The first is to bring together experts from diverse teams and disciplines to collaborate and find ways to build more sustainably through improved design and construction processes. Connected technologies help by bringing all people, systems and data together under one roof to improve transparency and reduce construction inefficiencies, thereby reducing costly rework and waste.
The other big component of ESG efforts comes down to tracking and reporting environmental impact and carbon emissions. This will likely soon become a requirement of construction companies and ultimately create more opportunities to build more efficiently as data is collected, tracked, analyzed and used to provide predictive insights to make informed, data-driven decisions. . Building holistic embodied carbon tracking and reporting into connected platforms takes time and collaboration, but it has the potential to revolutionize industry ESG efforts.
The construction industry is moving in the right direction. One of the companies leading the charge was Skanska, which become a global leader in sustainability in the industry today. Among many other sustainability 'firsts', Skanka was the first international general contractor ever certified to ISO 14001. As part of this, companies continually improve their environmental performance and ensure compliance with any new regulations or legislation.
"It became the foundation of how we envisioned doing the right thing, both for the planet and for the communities we worked in," said Steve Clem, sustainability manager for operations at construction of Skanska in the United States. "Instead of thinking about how to do less harm, we started thinking about how we can do good for the environment, how we can embed sustainability into our core values, and how we can leverage supply chain and everything we influence to make a difference."
But making that difference goes beyond supporting today's teams. It's also about creating tools that can impact countless generations to come. Access to better data and guidance on how to reduce global emissions is an important part of transitioning to a climate-conscious future. Connected technology notably helps teams make better use of their data in order to improve the way they build and reduce the environmental impact for future generations.
As more companies adopt these ESG-focused digital tools, tracking and logging carbon emissions will become as essential as tracking and reporting on its safety, finances, or productivity.
There is a huge opportunity ahead to further boost ESG efforts in the industry. Collectively, as an industry, we have an incredible opportunity to leave behind a positive and lasting legacy for future generations. Together we can build a better and more sustainable future.